eXXpedition's virtual voyages are designed to take crew on a transformative journey, on land, as we continue our route around the world. They're designed to give guest crew an in-depth understanding of the true impact of the plastics issue, forge and deepen relationships within our eXXpedition global community, develop solutions-based thinking and result in an action plan to apply crew superpowers to solve the problem.
On this voyage, Watch 5 takes us to The Kingdom of Tonga, an archipelago of around 170 islands, 36 of which are inhabited. In 2009, eXXpedition Director and co-founder Emily Penn spent 6 months living on this tiny island nation, working with locals to organise one of the biggest community-led clean-ups ever. A local representative will lead this session exploring how plastic use and management has evolved in Tonga over the last decade.
Meet the team
Mission Leader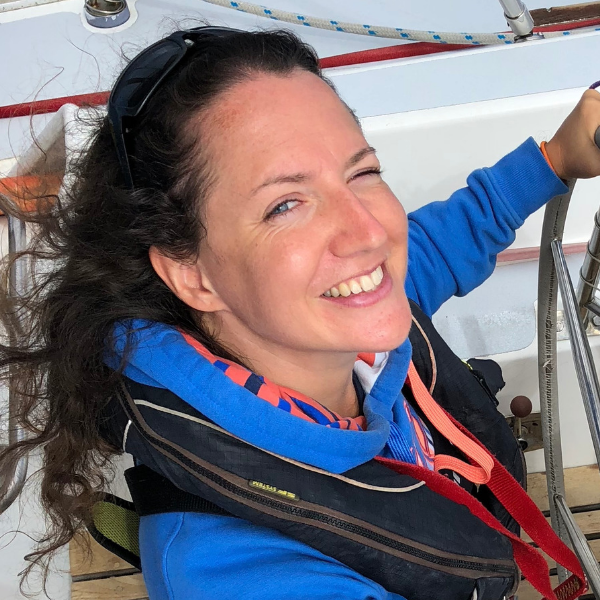 Sally Earthrowl
Sally Earthrowl
United Kingdom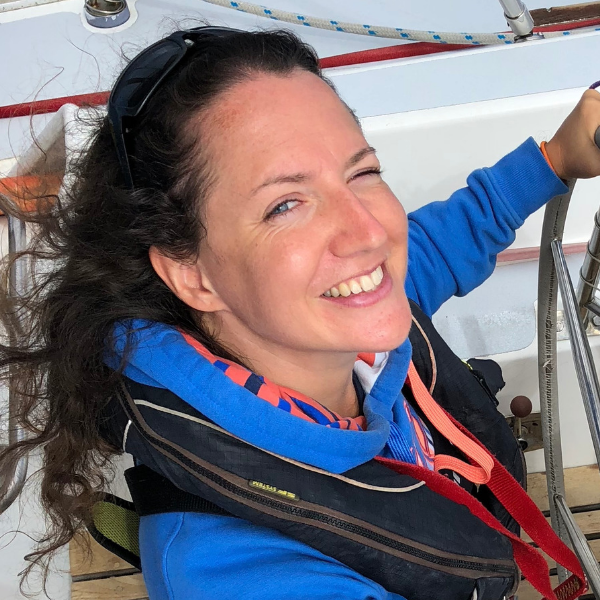 SALLY is a keen environmentalist, adventurer and ocean advocate. When living in Bali, she saw first-hand the devastating impact and upstream issues around plastic pollution in a developing country. This propelled her to take action, working closely with the local community to educate and raise awareness to bring about change in local waste management systems and behaviours. In 2018, Sally sailed through the Great Pacific Garbage Patch on eXXpedition North Pacific gaining first-hand experience of the extent of plastic in our oceans and contributing to 'science at sea'.
Prior to joining the eXXpedition team, Sally had a 12-year career as a Geography teacher, Head of Department and whole-school Teaching and Learning Coordinator. Sally values the importance and power of education as a key contributor to the sustainable management of global issues. As a teacher, Sally has always been student-focused; nurturing a creative learning environment allowing students to flourish and succeed. Under her charge students have achieved impressive levels of academic progress but most importantly to Sally, they have developed a passion for the planet they call home and a confidence to take action to protect it.
Swapping her classroom for S.V.TravelEdge and the school environment for the planet, Sally is excited about the opportunity to learn and raise awareness amongst crew and in the communities we will visit.
Yvonne C. Neth
Yvonne C. Neth
Micronesia
Artist
Yvonne is an Artist from Micronesia with a Degree in Anthropology and a Commercial Pilot's License. She is an animated soul with an enthusiasm for projects involving cultural preservation, environmental conservation, women's rights and education. Yvonne is ecstatic to be joining a leg of the eXXpedition 2019 World tour; believing that her participation in the joint endeavor to collect base data is essential toward the positive progress of environmental conservation. She is a child of the islands, sailing on Pacific waters is one close to her heart.
Jackie Nuñez
Jackie Nuñez
United States of America
Founder of The Last Plastic Straw
Jackie created the No Plastic Straws movement when she founded The Last Plastic Straw in 2011 as a volunteer project for Save Our Shores. The Last Plastic Straw has been a project of Plastic Pollution Coalition since 2016.
She is a part time kayak guide, full time activist, and lives in Santa Cruz, California, where she teaches people of all ages how to speak truth to plastic and be an agent for change in their communities. She has advised on more than 20 local ordinances limiting single-use food ware including plastic straws, and on the historic Break Free From Plastic Pollution Act of 2020.
Jackie has a BS in Health and a AS in Horticulture, and has a passion for travel, ocean sports, design, gardening, the environment, and community service. Jackie is a frequent speaker at international conferences, in the press, and was featured in the award-winning documentary Straws.
Susanna Mitterer
Business Owner / Management Consultant
Susanna is Management Consultant and Executive Coach with over 20 years of experience, working primarily in the manufacturing sector. Many of her clients are Polymer Processors and she is keen to use her experience on eXXpedition / Leg 16 to help inform upstream solutions to reduce the level of plastic content, packaging and improve the closed loop recycling practices.
Susanna has had a lifelong interest in marine life & biology and environmental sciences. Although she has limited offshore sailing experience, she is looking forward to exploring the Indian Ocean Gyre and using her first-hand experience to influence her professional and personal network to find solutions to make the world as plastic free as possible.
Susanna wishes to thank all her personal friends who supported her so generously on her crowd funding page and her Consulting Colleagues at Syngroup GmbH for sponsoring her on this journey!
Amélie Marchand
Sailor & Photographer
Amélie Marchand's life is a joyful mess but it would make far less interesting stories if it was any other way! After a few years working in the music industry, as the musician who can play any instrument you put in her hands, her desire to make the world a more sustainable place pushed her to study environmental sciences. Growing up in a family of travellers and professional mariners, her grandfather tales of gigantic waves and seafaring adventures inspired her wandering spirit and her profound respect of the ocean. She discovered traditional sailing when she was 22 years old and it is now her favourite way to wander around. Between her fight against her evil enemy, plastic pollution, her salty travels and her university life, she still manages to be a freelance photographer, has learnt how to speak 4 languages, volunteers at a handful of local organisations and practices violin. In case you haven't guessed, her biggest fear is to be bored.
Catherine Cieczko
Catherine Cieczko
Belgium
Journalist and Public Affairs Consultant
Catherine trained as a journalist and is experienced in research & innovation, transport, energy and environment sectors. She works on improving stakeholders relations and ensuring visibility to EU Programmes within the EU community and beyond, through a large network of contacts.
Catherine offers a combination of counsel in public affairs and policies, with an experience in managing communications campaigns, including media relations, events, digital & print communication, social media and corporate branding. Working with passion to support the construction of Europe, she has embraced the challenge of the EU Green Deal to make Europe the first climate-neutral continent.
Catherine is a keen amateur sailor and through her sailing voyages she has become increasingly aware of the plastic polluting the oceans. Joining the eXXpedition journey is a way for her to explore further and come up with solutions as a citizen and policy influencer.
Esther Lee
Esther Lee
United States of America
Writer and Designer
Hailing from the American South, Esther lives and writes on a 35' sailboat named Hope with her artist husband, Michael, and their cat, Bowie. A former assistant professor in creative writing with over 20 years of experience in education, she is the author of the chapbook, Blank Missives, and two poetry collections titled Spit and Sacrificial Metal. Along with working with The Green Boater TV and the National Wildlife Federation, she has contributed her skills to schools and organizations (i.e. Emory University, Basecamp, Designlab) and recently collaborated with Sierra Club to develop their first plastic reduction toolkit, which offers a step-by-step guide for enacting plastic reduction ordinances in local communities. 
When she's not involved in creative pursuits or boat projects, she is learning to become a more confident sailor! Esther is particularly excited to join eXXpedition's community and to work alongside a multidisciplinary crew of amazing women working towards solving plastic pollution.

Helena W Óladóttir
Helena W Óladóttir
Iceland
Sustainability Manager
Helena is enthusiastic about almost everything to do with environment and education, and somehow most of her professional and personal steps have been related to the same journey. She has 15 years experience working as a sustainability educator and facilitator, in schools and kindergartens, at the Univeristy and at the municipality level, and in various businesses and organizations. Currently, Helena works as an environment and quality specialist at the Icelandic Medicines Agency – talking about increasing environmental awareness in a broad field.
Helena holds a Masters degree in Environmental management and is a board member of the Icelandic Nature Society. She doesn't have much sailing experience but is an experienced outdoor person that thrives in challenging situations.
Phoebe Smith
Phoebe Smith
United Kingdom
Student
During Phoebe's first year of A-levels in 2017, David Attenborough highlighted the issue of plastic pollution in Blue Planet 2, and the plastic she has been seeing along the Bristol Channel her whole life acquired a new significance. In school, Phoebe and her peers were nominated for the Green Heart Hero Awards after she began an Environmental Committee and lead it through its first year organising projects, such as a sustainable fashion show, and partnering with the InterClimate Network.
Phoebe is now heading on from having completed an Extended Project Qualification at school, in which she explored the issue of marine plastic pollution. Her interest in research will be continued at the University of St Andrews where, from September 2020, she will be studying Geography. She looks forward to exploring the human and physical elements of the planet in more detail, understanding more about how we interact with our earth and the effect this has on the world throughout time.
Ultimately however, having grown up by the water, sailing on the water and spending time in the water, Phoebe is thrilled to be boarding S.V. TravelEdge with eXXpedition. She longs to see restoration of this planet, which is currently damaged by issues, such as plastic pollution, and so she looks forward to the on-board research and discussion that she hopes will help her to better understand this complex environmental problem.
Pallavi Davé
Pallavi Davé
United Kingdom
Designer/Maker
Pallavi is a designer/maker based in London and the founder of Inkwell Studios, a multi-disciplinary creative studio with a focus on innovation and sustainability.
Having created numerous physical sets and models for film, theatre and animation, she became aware that most of the things she was making would end up in landfill after the production was over. With a long-standing passion for nature and the environment, she needed to find a new, low-waste way of working.
Now at the helm of her own business, Pallavi works at the intersection of creativity and tech, developing new ways of producing creative work, looking at alternative, innovative methods and materials, including virtual reality and compostable 3D printing.
Pallavi's overall aim is to find solutions to reduce the negative environmental impact of the creative and entertainment industries.
Eugenie Biraben
Eugenie Biraben
Switzerland
Project Manager
After working 5 years in the world of digital startups and communication in Paris, Eugenie got animated by a strong desire to have more positive impact, both in HER personal and professional life.Throughout this shift, she had the opportunity to live a collective experience around shared governance, cooperation and societal engagement. Now, Eugenie is currently moving back to Brittany (closer to the sea!) and wants to contribute to more sobriety, resilience and reconnection with nature in society. She also wants to play a part in projects around ecological transition by allowing everyone, in their own way, to be an actor in this transition.
Karey Billyard
Creative Storytelling / Production Management
An innate interest in the natural world, new science, and the tangible human story which ties it all together has driven my work in content production and communications for some of the top independent television producers, international broadcasters and not-for-profit organizations in such cities as London, UK,  Toronto, Ontario, and now here in beautiful Victoria, British Columbia on Vancouver Island. A natural history and adventure/travel storyteller at heart, I thrive on the process of creating resonant and relevant content – the best way to insight action and advocacy is to inspire and educate!
​
I began my communications career with one foot planted firmly on either side of the Arts/Science fence – stemming from a background in programming and public engagement at both the Art Gallery of Ontario in Toronto, and then the Natural History Museum in London, UK where I assisted in the grand opening of the Sir David Attenborough Studio and first participated in such photography events as Wildlife Photographer of the Year. These combined interests and strengths inspired me to start using my research and writing skills, ultimately leading me to researcher, story producer and Associate Producer roles on a wide variety of ambitious specialist-factual natural history and science productions for such networks as PBS, BBC, National Geographic, IMAX, Travel Channel and Smithsonian Channel. Along the way, I've been given the incredible opportunity to use my Production Management and Site Coordination skills to be an extremely effective and integral part of some large scale event productions, including the United Nation's Global Compact, UNESCO's Year of Indigenous Languages / First People's Cultural Council events, and several other live CBC Specials. Most recently, my professional path has brought me back to the not-for-profits, in a Content Producer / Media Manager role for Waterlution's ""Water Innovation Labs"" – funded in part by the Ministry of Environment and Climate Change.
​
The Pacific Northwest is a place of punch-you-between-the-eyes natural beauty, and it's stolen my heart since moving out here from the Great Lakes in late 2017.
Now, as my partner and I have followed our hearts and moved to the West Coast to pursue our ocean sailing dreams of being on the water 365 days/year (instead of 60 days/year on the Great Lakes!) I look forward to continuing to sink my teeth into the stories that make this place so enchanting, and hope that my work can help to keep it all that very way.
About Virtual Voyages
Six-Part Journey
eXXpedition Virtual Voyages will give guest crew an in-depth understanding of the true impact of the plastics issue, forge and deepen relationships within our eXXpedition global community, develop solutions-based thinking and result in a plan for how each participant can apply their superpower to solve the problem.
The Virtual Voyages will include many of the best parts of eXXpedition's  at-sea missions and on-shore workshops, giving the crew onboard an unique opportunity to network with talented women from across sectors and gain the knowledge and expertise to speak with authority on the issue of plastic pollution and its solutions.
We will also be delivering the sessions on a watch schedule to allow us to loop together our multinational crew, giving us a broader perspective and understanding about the issue which needs to be solved at a global level.
Partners & Sponsors
Thank You
eXXpedition Virtual Voyages are possible with the support of our generous sponsors.
Virtual Voyage Watch
2 Week Schedule
22nd January 2021

Watch One: Meeting your Multidisciplinary Crew

Day 1

Citizen Science Project over the weekend. Data to be submitted by 12:00 GMT on Monday 25th January 2021.

25th January 2021

Watch Two: Understanding the Problem

Day 5

28th January 2021

Watch Three: Navigating the Solutions

Day 7

30th January 2021

Watch Four: Finding your Superpower

Day 9

1st February 2021

Watch Five: Global to Local

Day 12

4th February 2021

Watch Six: Taking Action

Day 14