Leg 6: Brazil
eXXpedition's virtual voyages are designed to take crew on a transformative journey, on land, as we continue our route around the world. They're designed to give guest crew an in-depth understanding of the true impact of the plastics issue, forge and deepen relationships within our eXXpedition global community, develop solutions-based thinking and result in an action plan to apply crew superpowers to solve the problem.
On this voyage, Watch 4 takes us to Brazil, the largest country in both South America and Latin America. The fourth largest producer of plastic waste in the world, Brazil produces around 11.4 million tons each year. Of this, an estimated 325,000 tons of plastic ends up in the Atlantic Ocean surrounding Brazil. Joined by a representative from Brazil, during Watch 4 we will investigate the challenge of plastic pollution for this nation. This will provide an insight into the issues it faces in terms of the environmental impact and waste management. 
MEET THE TEAM
MISSION LEADER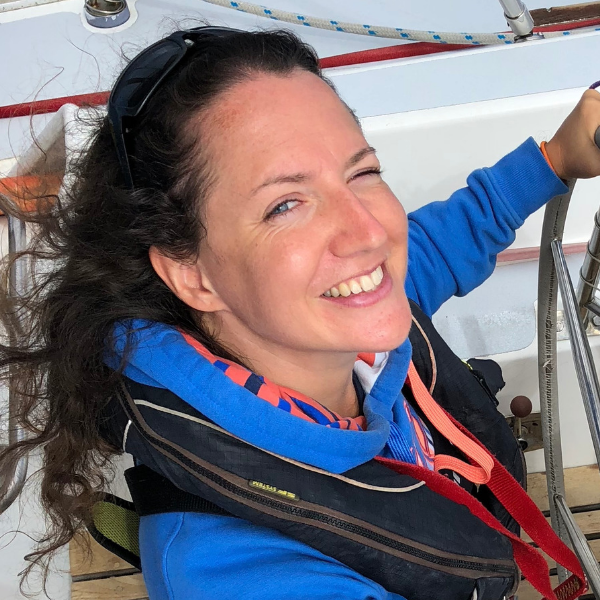 Sally Earthrowl
Sally Earthrowl
United Kingdom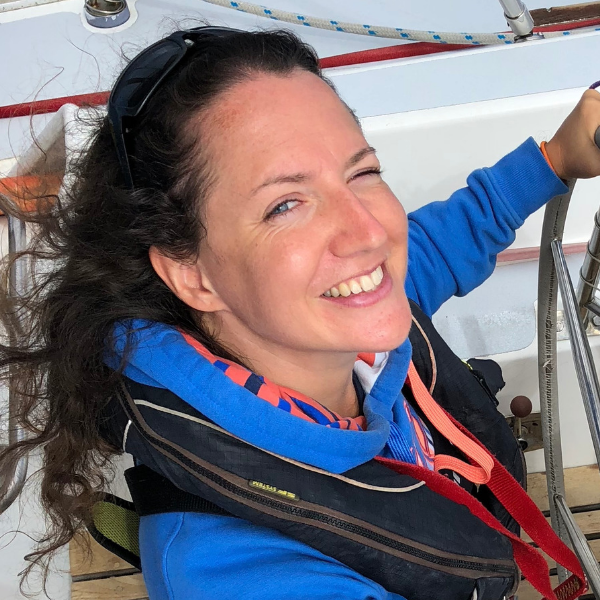 SALLY is a keen environmentalist, adventurer and ocean advocate. When living in Bali, she saw first-hand the devastating impact and upstream issues around plastic pollution in a developing country. This propelled her to take action, working closely with the local community to educate and raise awareness to bring about change in local waste management systems and behaviours. In 2018, Sally sailed through the Great Pacific Garbage Patch on eXXpedition North Pacific gaining first-hand experience of the extent of plastic in our oceans and contributing to 'science at sea'.
Prior to joining the eXXpedition team, Sally had a 12-year career as a Geography teacher, Head of Department and whole-school Teaching and Learning Coordinator. Sally values the importance and power of education as a key contributor to the sustainable management of global issues. As a teacher, Sally has always been student-focused; nurturing a creative learning environment allowing students to flourish and succeed. Under her charge students have achieved impressive levels of academic progress but most importantly to Sally, they have developed a passion for the planet they call home and a confidence to take action to protect it.
Swapping her classroom for S.V.TravelEdge and the school environment for the planet, Sally is excited about the opportunity to learn and raise awareness amongst crew and in the communities we will visit.
Alessandra Postali
Alessandra Postali
Brazil
Journalist
Journalist and photographer Alessandra spent a lot of time on the beaches while growing up – she loves being on the ocean. She loves to use her profession to help other people, so since 2018, She has worked in the areas of copywriting, creative strategy, audiovisual production and digital marketing for communication agencies and nonprofit sectors. And she developed projects in Italy, Spain, Albania and Angola, as well as in different states of Brazil.
Because of her love for nature, Alessandra believes that she can seek more and more knowledge to change her daily life even more, to live consciously, and share this knowledge with friends, family and community. She wants to use her profession for this cause as well, making people aware through storytelling and content production. So that the reality of plastic waste production in Brazil can be transformed step by step.
RAQUELINE CRISTINA PEREIRA MONTEIRO
RAQUELINE CRISTINA PEREIRA MONTEIRO
Brazil
Scientist
Raqueline is an Oceanographer, and has a Master's degree in Oceanography. Currently, she is a Ph.D. candidate in Aquatic Ecology and Fisheries at the Federal University of Pará (Brazil). Her research is about plastic pollution in sediment, water, and biota in the continental shelf and oceanic area adjacent to Amazônia (Brazil). In addition, she works in an aquatic litter collection related to plastic pollution in Amazonian rivers. Raqueline is involved in projects of environmental education talking about plastic consumption and its impacts on the environment, and ocean literacy. In 2020, Raqueline was selected to represent Brazil as an All-Atlantic Ocean Youth Ambassador for the 2020-2021 cohort.
Olivia-Grace Smith
Olivia-Grace Smith
United Kingdom
Photographer
Olivia is currently studying photography at Edinburgh Uni, and spent as much time in nature as possible, whether that be climbing in the Scottish mountains or surfing etc. Whilst travelling in South East Asia in 2019 Olivia was able to see first hand the many issues the world faces in regards to plastic pollution and saving our oceans, after learning to dive whilst away, she got to see what we need to protect and made her love for the oceans grow even more. Her photography is very centred around the environment and our relationship with it. She believes a lot in the power media and art have in creating change, and really hopes to bring that into a career as a conservation and documentary photographer.
Helen Walker
Helen Walker
United Kingdom
Environment Lead in Industry
Helen lives in Scotland and enjoys getting onto the water and into the hills as much as possible. She studied Oceanography with Marine Biology and since 2001 has worked in the renewable energy industry. Her decision to work in renewables was driven by a passion to make a difference to our environment and the nature we coexist with. This probably comes from growing up and seeing the conflicts between nature and industry in the 1980s on the Humber Bank. Helen is now delighted to hold a global role as Head of Environment within one of the worlds largest utilities focusing on developing offshore wind energy projects and generating the electricity we need in the most sustainable way. She is keen to learn more and lead change regarding plastics pollution.
Olivia Gilmore
Olivia Gilmore
United States of America
Diplomat
Olivia is a diplomat and international development practitioner. As a Foreign Service Officer for the United States Agency for International Development, she manages overseas assistance programs and supports US foreign policy in the areas of environmental sustainability, natural resources management, climate change, and biodiversity conservation. She is currently based in Port-au-Prince, Haiti, where she manages programs on reforestation and marine conservation. Her next stop is the Galapagos Islands, where she will serve as an Embassy Science Fellow advising on waste management and combating ocean plastics.
Jodi Salmond
Citizen Science trainer and facilitator, Marine Researcher, Part time acrobat
Jodi is a marine researcher specialising in citizen science, conservation biology and behaviour change. Underwater, she trains divers in global reef health monitoring protocols; above it, she engages and inspires through hands-on research, education and personal development to encourage everyone to become the best versions of themselves and to look after the planet.
Jodi loves adventure, is a part time acrobat and full time lover of life. She enjoys unique, immersive travel; her journeys leading to a curious nature, and McGyver-like innovativeness. She leads by example, getting amongst the action to make things happen. She is an entrepreneur and is currently looking at ways to reduce cigarette butt waste, in between monitoring reefs as part of a global reef health monitoring program.
Catherine Rogers
Catherine Rogers
United Kingdom
Mental health therapist and entrepreneur, resilient, compassionate and passionate.
Catherine is an all-round adventurer, mother of 3 and entrepreneur with the heart of a healer. To date Catherine has a varied career, from treasury, to managing a bird watching resort in Guyana, to being a cook on the expedition boat Pelagic. This then moved on to 20 years as a mental health therapist whilst raising children and writing a best-selling book Gut Well Soon and launching an online programme www.resetyoyurhealth.com promoting sustainable and non-processed food consumption for every food preferences and over 23 health conditions; because as she says "writing a book was not enough " she wanted to create something practical people could follow in everyday life to improve their health and the environment .
Catherine recently worked with the charity www.oliveridleyproject.org in the Maldives and has seen first-hand the toll ghost nets take on the lives of sea turtles, so she is highly motivated to contribute and learn from eXXpedition about the issue of plastic in our seas and how our consumption in linked to the overall health of our planet, then go out and spread the word.

Jaqueline B. Ramos
Jaqueline B. Ramos
Brazil
Communicator
Jaqueline is a Brazilian journalist, writer and communications specialist passionate for all environmental related issues. She has already worked in newsrooms of newspapers and magazines and for socio environmental projects for multinational companies in Brazil. Currently she lives with her family in Nagoya, Japan, and is an independent professional managing her own website (Ambiente-se Comunicação) and the communications strategies for the Great Ape Project Brazil/International.
She strongly believes in people power to unite diverse skills, find smart and creative solutions and deploy real actions. In the last few months she has been digging in into the complex area of plastic pollution and hopes to contribute to scale up ideas and proactive initiatives.
Halee Bernard
Halee Bernard
United States of America
Producer & Advocate
Halee is a producer and advocate based in Los Angeles. Her independent film work explores themes of identity, womanhood, and resilience, and has screened at dozens of festivals around the globe, including Sundance, Tribeca, the United States of Women Summit, and the Obama White House.
Alongside her producing, Halee volunteers as a Crisis Counselor Advocate at Peace Over Violence, a nonprofit community organization dedicated to building a society free from sexual and domestic violence. She also serves on the Executive Committee of YEA! (Young Entertainment Activists) where she focuses on impact, strategy, and the climate crisis.
Halee's concern for ocean health was spurred when she started scuba diving along California's stunning coastline. She is thrilled to be joining a group of passionate women interested in amplifying the conversation around plastic pollution.
ABOUT VIRTUAL VOYAGES
FIVE-PART JOURNEY
The Virtual Voyages include many of the best parts of eXXpedition's at-sea missions, giving the crew onboard an unique opportunity to network with talented women from across sectors and gain the knowledge and expertise to speak with authority on the issue of plastic pollution and its solutions.
We will also be delivering the sessions on a watch schedule to allow us to loop together our multinational crew, giving us a broader perspective and understanding about the issue which needs to be solved at a global level.
Partners & Sponsors
Thank You
eXXpedition Virtual Voyages are possible with the support of our generous sponsors.